WATCH THE VIDEO
Owning a Piece of History - the M1 Garand
In 1945, General Patton wrote a letter about the M1 Garand to Springfield Armory. It has given us one of the most memorable firearms quotes of all time:
In my opinion, the M1 rifle is the greatest battle implement ever devised -George S. Patton
A rifle with many names
You'll hear the U.S. Rifle Caliber .30 M1, M1 Rifle, or its colloquial name, the 'M1 Garand' (pronounced guh-rand by many) in honor of its inventor, John Cantius Garand (pronounced gair-end). It is a firearm with many attributes that make it a worthy addition to the collection of any discerning firearms enthusiast: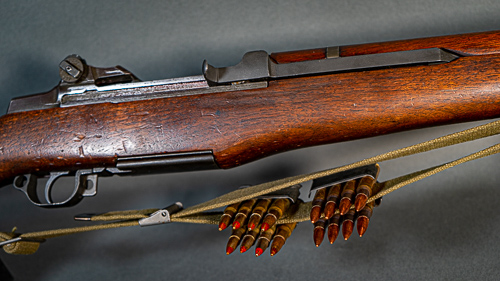 1. Historical Significance

As stated by the Civilian Marksmanship Program (CMP), "John Garand's rifle was the single most significant small arms development in the history of modern warfare. No other rifle in this nation's history so outclassed that of its adversaries. The accuracy, reliability, ruggedness and most of all, firepower, could not be matched by any of the Axis powers during WWII. It performed with distinction during WWII, Korea and the early days in Vietnam." For many firearms enthusiasts in the United States, they are likely only removed a generation or two from a relative who served with one of these distinguished rifles.
2. Collectability
The sobering but important-to-acknowledge truth is that there are a finite amount of M1 Garands in the world. Because of this, these fine rifles will ever remain collectable and–when treated with respect–should only appreciate in value as time goes on. There are many intricacies and a wealth of knowledge to be explored regarding the collecting of M1 Garands.
3. Community
A thriving community of M1 Garand enthusiasts and collectors alike are spread throughout the United States and even some other countries. Several shooting matches are dedicated to the M1 Garand, such as the John C. Garand Match held by the CMP. The CMP's own forum has a sub forum dedicated to all matters M1 Garand related. It is a great resource–check it out!
4. Cool Factor
Enbloc Clips. 30-06 caliber. The classic "Ping!" sound upon ejection of the clip. There are multiplicative reasons that the M1 Garand is one of the most fun firearms one can have the privilege to operate. One of the best reasons for many is how shooting can transport one back in time to an era when wooden furniture and steel construction is what made firearms great.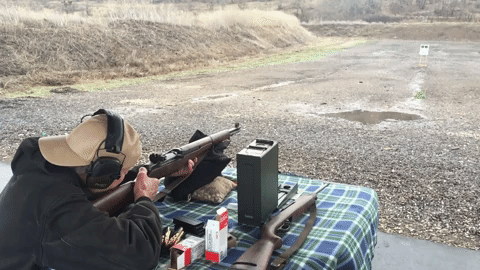 The author's 93-year-old WWII Veteran grandfather, who trained with and carried an M1 in the European Theater, demonstrating the fun of an M1 Garand clip ejection.
So, how can you acquire one of these amazing battle rifles of yore? Buy one of questionable origins for top-dollar from a greasy pawn shop? Buy one–again, of questionable origin and authenticity–for thousands of dollars from a gun show? Sure, but the best option is unquestionably by getting it from the Civilian Marksmanship Program, or CMP.
From the CMP Website:
"The Civilian Marksmanship Program (CMP) is a national organization dedicated to training and educating U.S. citizens in responsible uses of firearms and airguns through gun safety training, marksmanship training and competitions. The CMP is a federally chartered 501(c)(3) corporation that places its highest priority on serving youth through gun safety and marksmanship activities that encourage personal growth and build life skills.
Statutory Mission
The federal law enacted in 1996 (Title 36 U. S. Code, 40701-40733) that created the Corporation for the Promotion of Rifle Practice and Firearms Safety, Inc. (CPRPFS, the formal legal name of the CMP) mandates these key "functions for the corporation:
To instruct citizens of the United States in marksmanship;
To promote practice and safety in the use of firearms;
To conduct competitions in the use of firearms and to award trophies, prizes, badges, and other insignia to competitors.
The law specifically states: In carrying out the Civilian Marksmanship Program, the corporation shall give priority to activities that benefit firearms safety, training, and competition for youth and that reach as many youth participants as possible."
This means that you as a civilian have the ability to purchase an M1 Garand for the use of ownership, sporting, and overall enjoyment! However, this privilege does come with a few requirements to complete in order to qualify to purchase through the CMP. How this is accomplished is what will be discussed next.
There are a few steps required to get qualified to purchase a rifle. The quick and dirty of it is you must:
1. Have proof of U.S. Citizenship
2. Proof of age
3. Have proof of membership in a CMP affiliated organization
4. Have proof of marksmanship or other firearms related activity
5. Be legally eligible to purchase a firearm
While there are a few of these steps that you have likely already completed if you have ever purchased a firearm before, there are a couple of steps that I am happy to give a couple tips on.
At $25.00 a year, the GCA is quick and easy to join and a printed copy of your confirmation of membership or your membership card are all that are needed to meet this requirement. Not to mention, the GCA has other benefits for being a member including an awesome quarterly journal mailed to your address that are always full of great Garand content!
Proof of Marksmanship
As for proof of marksmanship or other firearms related activity, there are multiple methods to accomplish this that the CMP lists on the eligibility page linked above:
Current or past military service.
Current or past law enforcement service
Participation in a rifle, pistol, air gun or shotgun competition (provide copy of results bulletin).
Completion of a marksmanship clinic that included live fire training (provide a copy of the certificate of completion or a statement from the instructor). Visit THE CMP to find an upcoming CMP sanctioned clinic or match.
Distinguished, Instructor, or Coach status.
Concealed Carry License.
Firearms Owner Identification Cards that included live fire training. – FFL or C&R license.
Completion of a Hunter Safety Course that included live fire training.
Certification from range or club official or law enforcement officer witnessing shooting activity.
Complete the CMP Marksmanship Form to certify your range firing and the required marksmanship related activity for an individual to purchase from the CMP.
The method I utilized was to include a scanned, printed copy of my concealed handgun license in my paperwork packet.
Extras
One extra step that some states (such as Oregon) requires is including a copy of an FFL license copy for shipping purposes. Believe it or not, many states exempt CMP firearms from requiring transfer through an FFL. Sadly, Oregon is not one of them.
If you send us an email at Quotes@blackflagarmory.com, we will be happy to email you a copy of our FFL shipping form to send along with the rest of your paperwork.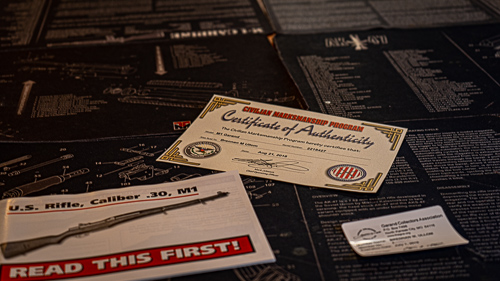 The CMP offers sales of Garands according to grade and make. There are a lot of details that go into how they grade Garands for sale and the website offers a fair description of each grade on their sales page. One of the better summaries of the descriptions I have read is from a fellow by the name of Gus Fischer who has prevalence on many forums on the internet regarding M1 Garands, M14s, and M1 Carbines. You can read Fischer's post on the gradings, here.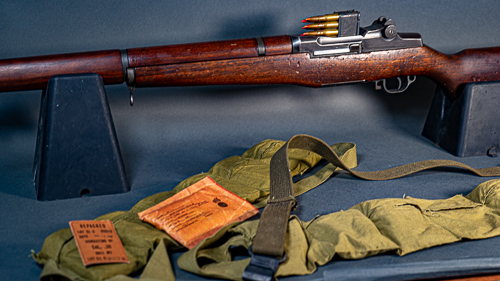 To summarize his thoughts and add my own opinion to the discussion, I truly think the best starting place for most first-time purchasers would be an RM1SERVICE M1 Garand. As of the date of this article, they are $750.00 with free shipping and this includes the rifle, one enbloc clip, a manual, safety flag, and one of their fantastic CMP branded hard cases.
I have been truly thrilled with my RM1SERVICE I purchased. After a good inspection and greasing it shot incredibly well out of the box and has since provided me with literal dozens of hours of enjoyment.
Some may wish to purchase a RM1SPECIAL. If you're less interested in collectability and more interested in having a refurbished M1 rifle that will perform excellently in marksmanship activities with new production barrels and new production wooden furniture, this might be your option. Again, read up on the descriptions on the website and Gus Fisher's forum post.
Once you have decided on the option you would like to order, it is time to fill out the paperwork.
Click on this link to check out the ordering information page:
Click on this link for the fillable order form:
The key here is to follow all the instructions of the packet closely. Make sure all needed documents are enclosed with the order packet. Page 4A is a checklist that is very helpful in helping to line out what your mailed order packet needs to include. While this step is not going to be an exhaustive guide, here are a couple of tips to help you out.
Page 2A requires notarization. UPS, some banks/credit unions offer notarization services for documents like this.
Page 3A is your actual order information where you will include the item information and payment info. A cool tip for this page is that if you have a simple, reasonable request of the rifle you are ordering, include it written on a sticky note stuck to this page. For example, if you hope to acquire a WWII era Springfield M1 Garand when ordering an RM1SERVICE service grade M1 Garand, politely include a message like, "WWII serial number please". This can be hit or miss, but it is certainly worth a try!
When mailing these documents, some people like to use a priority envelope for everything with a tracking number so you can know when the CMP has received your packet!
One of the best resources on the internet for the CMP Garands is the CMP forum M1Garand forum page. It is worth becoming a member here just to see what is going on in the Garand world.

Specifically, the Order Timeline is a page members have developed that allows prospective buyers to get an idea of how long it will take for them to get their Garand from time of mailing.
The Payoff: M1 Garand
At the end of this process, a beautiful M1 Rifle with case, clip, and manual is yours for your hard work and time spent jumping through the hoops. The M1 Garand is undoubtedly a timeless, incredible piece of firearm history and adding one of these to your possession is unlikely to fail in bringing you smiles and hours of enjoyment.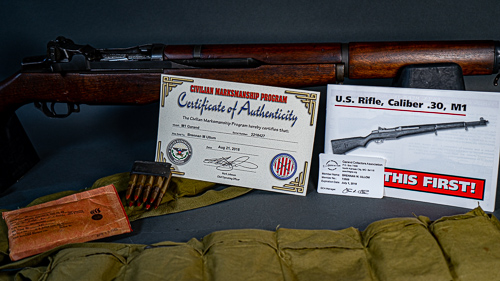 WATCH THE VIDEO