MISSION
Changing the way you think of the firearm industry through education and excellent service. Our mission is to strengthen Southern Oregon communities by empowering you to live a safer life with the confidence that you have the knowledge and ability to protect yourself and your loved ones.
OUR SERVICES
IN STORE
Come visit our brick and mortar shop in Medford. We have suppressors, firearms, accessories, merchandise and more. We provide personal, professional, and knowledgeable service as you've never experienced from a gun store. Even better, we guarantee the best prices in Medford, the Rogue Valley, and all of Southern Oregon. We are always just a call or email away.
ONLINE
Browse our huge selection of firearms and accessories online. Our online inventory syncs through our distributors and shows a massive number of products that can be shipped into the store or directly to you in just a few days. 
For used firearms that are in-store, check out our Gunbroker listings.
Webstore
Gunbroker
TRAINING DIVISION
We believe that education and training are essential to responsible firearm ownership. That's why we offer training options for all levels of shooters; educating firearm owners on the safe, responsible, and effective use of their firearms. From purchase to proficiency, we are here for you.
VIEW CLASSES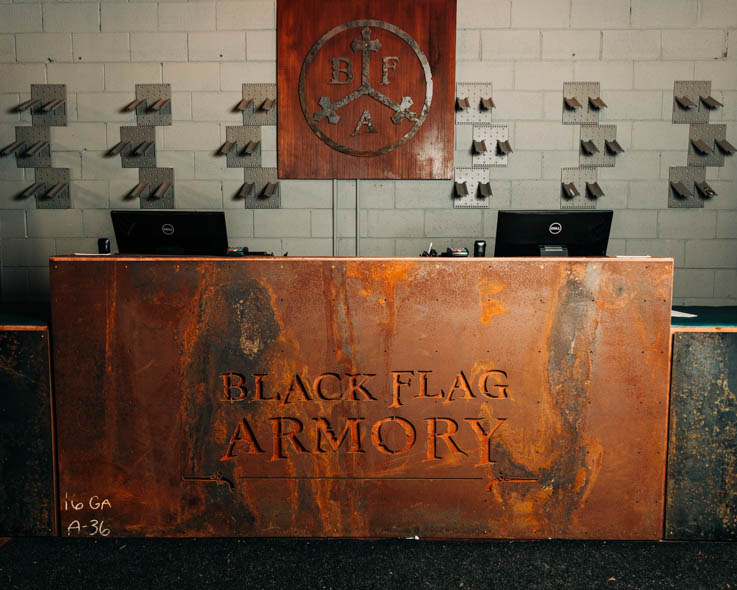 ABout us
Experience truly excellent service.
We believe that you should never have to walk into a gun store and feel awkward or out of place. You should never have to worry about being misled or taken advantage of. Instead, imagine having a personal concierge; an expert friend you can trust, who is right there with you to help you every step of the way. Someone to help you find the right gun, at the right price, and teach you about every aspect of the firearm.
Our Story
I had a fabulous experience at Black Flag Armory, and I couldn't be more pleased with their service. James went above and beyond to assist my wife and me, spending a lot of time patiently explaining various aspects and products. What stood out was his dedication, as he even helped us beyond their regular opening hours. We decided to purchase the guns we wanted, and the entire experience was made super nice thanks to James outstanding customer service. Highly recommend this store! We will be back!
Been a customer for several years now. Wether it's over the phone or in person, I've always received top notch service. Extremely happy to have them in the valley. Fully recommended!
Graciously answered my questions, saved me significant $ on the deal, packed the gun securely, and shipped lightning fast--A+++
First time going to Black Flag and I was beyond impressed. Their inventory, prices, and their customer service earned my business.
Roberto Alamo Allenbrand
2023-10-12
Black Flag is the place to go. They are extremely professional, and obviously care about their customers. I couldn't be happier with my experiences there.
Brandon Parker
2023-10-11
Very helpful
Nothing but good experiences in this shop. My wife and I have bought multiple arms from them and I have done transfers through them and they have been nothing but courteous and respectful. Even my wife, with little arms knowledge, felt they went above and beyond helping her pick the right gift for me. Definitely my store of choice!
I have had nothing but stellar experiences here. Eric and John are wonderful, the shop has a great atmosphere, prices are fair and selection is better than anywhere in the valley