A Glock modder's Wet Dream
Polymer80 jumped onto the scene with the next step in 80% firearms with their Glock compatible lowers. With the second generation of frames out now, these things are fantastic! We really see two groups of people looking to make use of these pistol frames. One is the group that wants to exercise their rights and manufacture a firearm for personal use. The other groups, and possibly the larger group, are those that want to build some seriously tricked out Glock style handguns.
If you're looking to supplement your handgun with some fantastic aftermarket parts, starting with an 80% frame may be the way to go. First off, these things boast a frame shape that is reminiscent of most modded Glock frames. No finger grooves, aggressive grip texture, double-undercut trigger guards, and indexing points. After those great features, starting with just a frame means you waste none of your money by purchasing a factory Glock and tossing out 80% of your factory parts and then modifying the other 20%.
If you read no further, here's our opinion. These things are a ton of fun!
What's In The Box
Everything you need to complete the manufacturing of the frame. The jig for drilling and cutting, the needed bits, and metal frame rails to drop in once you finish. From there, you will just need to purchase the lower parts of your choice and get a slide and barrel on the gun. Then you will be good to go!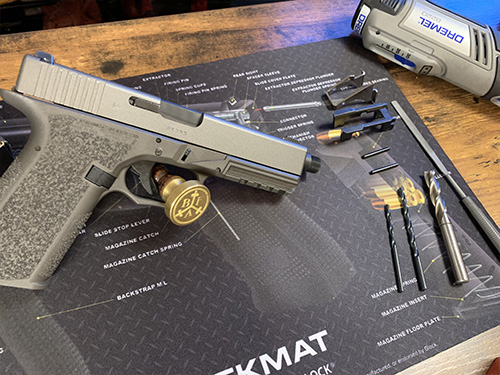 Completing the Frame
Okay, it's cool. You're convinced. But how easy is it to actually finish this thing and what are the chances of wasting your $120 by accidentally destroying the frame? Well, you're in luck. These frames are super simple to complete! If you've got a hand drill, a Dremel tool, or even an old hand crank drill and a pocket knife, you can complete these frames easily.
It goes like this; pop the frame in the jig, use the included drill bits to drill the three marked holes on eac side of the frame. Then, use something to cut the four marked tabs at the top of the frame to be flush with the rest of the frame. Last thing to do is cut out the marked portion on the inside of the frame so that the guide rod and spring will fit properly into the frame and you're done!
So what do we think? If you own a Glock or want to build a handgun from scratch, these frames are a super fun project and a really nice option for building or upgrading a Glock style firearm.
TLDR: These frames are awesome and can be finished with super basic hand tools. You should probably get one, or four.