This scope is a beast!
First off, if you don't read any further, let me start this off by letting you know that these scopes rock! They are feature rich, look great, are easy to use, and have some pretty great glass in them. Definitely of the quality that you would expect from Sig's flagship scope model. Would I recommend this scope? Heck yes I would, do, and will likely continue to.
Let's talk features
This scope jumps right out at you with a 5-30 magnification, 34mm body tube, and a massive 56mm objective lens. Right off the bat, you know this is going to be a bright and clear optic with enough magnification to really reach out and touch something.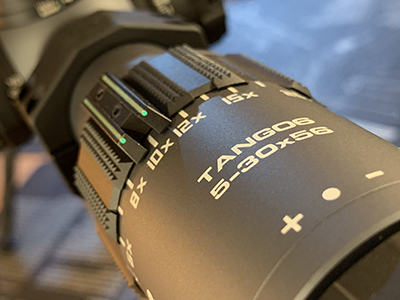 FEATURES
HDX™ optics extra-low dispersion glass (LD) combined with high transmittance glass (HT) provide industry leading light transmission and optical clarity for any situation
LevelPlex Digital Anti-Cant System utilizes an integrated digital level with user selectable reticle cant detection at +/-0.5° or +/-1.0° sensitivity.
MOTAC™ (Motion Activated Illumination) powers up when it senses motion and powers down when it does not. Provides for optimum operational safety and enhanced battery life
Dependable waterproof (IPX-7 rated for complete immersion up to 1 meter) and fog-proof performance
T120 Tactical Turrets with 120 clicks per rotation (12 MRAD or 30 MOA)
LockDown™ Zero System on the TANGO6 features a resettable zero, zero-stop and is lockable at any location
Let's take a second to appreciate the LevelPlex system built into these scopes. Accurate to 1/2° of cant this system really helps the shooter fine-tune their shots at a level that was arguably impossible with traditional bubble levels. Check out a quick video on the system while we're here.
How is it to shoot?
Okay, so the features look great on paper, the videos from Sig look cool, but what about actually shooting it? How does this thing preform mounted up on a rifle and shot by a normal person? Amazingly. I have use this scope on three separate rifles now and on my 6.5 Creedmoor MPA BA [link to MPA review], this scope is an absolute dream! Bright, clear, accurate, awesome feeling turrets, and featured packed. It does everything you want in a high-end scope and in my opinion, is definitely worth venturing outside your comfort zone of Vortex or Nightforce.