The world of precision shooting is becoming more accessible than any time in history. With the gap between custom rifles and factory built ones narrowing and the barrier of entry being lowered daily thanks to some amazing guns like the Ruger Precision Rifle and Bergara rifles, we are seeing more and more shooters enter the world of long range precision shooting and it is awesome!
But with the entry level rifles making such massive strides lately, are we seeing similar gains in mid-level guns? If the Masterpiece Arms BA rifle is any indication of that, then I would answer with a resounding HELL YES! So let's get into my review of what is now my favorite bolt action on the market today. My 6.5 Creedmoor MPA 6.5 BA.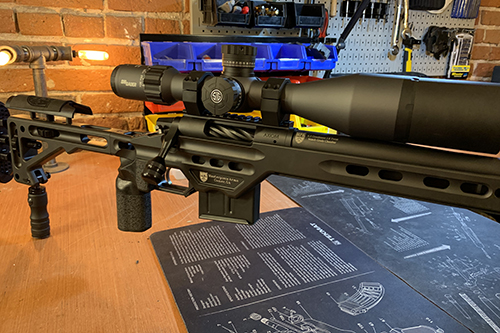 In the world of long range rifles, I 've owned a Remington 700 SPS in a chassis, a Bergara B-14 BMP, and now the MPA BA. I've also had the privilege to shoot many other bolt guns as well. From Tikka to Proof Research. And I can definitely say that this rifle is by far my favorite to shoot right out of the box. The features are amazing, the value is right up there with the best of them, and did I mention that it shoots like a dream?! MPA boasts a 3/8" 3-shot group guarantee from the factory. That alone should tell you that this is a serious rifle with some real effort put into its development.
Incredibly accurate, right out of the box
This rifle is a blast to shoot. On day 1 I set mine up with a Sig Tango6 5-30x56mm scope, Accu-Tac bipod, and an AAC 7.62-SD suppressor. And damn did this thing shoot! Super smooth action, great feeling bolt, TriggerTech trigger that felt perfect and almost no recoil in 6.5CM.
After zeroing this beast, my first 5 shot group with factory ammo was 0.249" at 100y. Pretty awesome from a factory gun on factory ammo. (I was shooting Federal Gold Medal Berger 6.5CM) This rifle preforms so beautifully that it quickly becomes boring under 300y as you effortlessly stack round after round on top of each other.
The rifle isn't cheap, but neither is it a full custom from Proof. At $2840 this rifle isn't cheap, but it definitely isn't out of reach for the average shooter who totes around five or six AR's these days. Is it worth the money? Again, HELL YES. IMHO, this rifle is worth every cent. I cannot imagine anyone going with this gun and being disappointed in their purchase.
So before you snag another 3 AR's and a Ruger Precision, I would urge you to take a look at this video from MPA, read the features below, and consider purchasing a real Masterpiece of a rifle!
Scroll down the page for the full breakdown of features straight from MPA.
Action
Curtis Custom Axiom
Wire EDM Bolt Lug Raceways
3 Lug Head
60 Degree Bolt Throw
Rollerball tipped cocking piece to reduce drag
Quick Release Firing Pin Assembly Removal System (Tool Less)
Recoil Lugs Ground to .0001″ Flatness and Parallelism
Bolt
One Piece Design of the Bolt, Lugs and Handle
CNC OD Ground on All critical features and dimensions
Spiral Fluting on all Bolts
All Bolts are Hand Lapped and Fitted to each individual action
DLC Coated
Mini 16 Extractor
Barrel
Spencer/MPA Rifle Barrel
416RQ Stainless Steel
Precision Gun Drilled, Reamed and Honed
Pull Button Rifled
Stress Relieved
Hand Lapped
Bore and Land Inspected on Video Borescope
Sheffield Air Gage Inspection to .0001″ on Bore and Rifle Land Variation
Chamber is indicated within .0001″ or less – to the bore of the rifle
Chassis – BA Competition Chassis
Masterpiece Arms Tactical Chassis System
Produced from 6061 Aluminum
V-Bedding System with Additional clearance for Glass Bedding Action and Straight Section of Barrel
MPA Buttstock with Adjustable Cheek Riser, Length of Pull
Bag Rider
Trinity Rail
Night Vision Bridge
Lower mounted Picatinny Rail
20 MOA Scope Rail
Cerakote Finish – Multiple Colors Available
User Locate-able Barricade stop system compatible (Barricade Stop Included)
Built In Bubble Level
Enhanced Vertical Grip
Thumb Notch
R.A.T. System Compatible
MPA Muzzle Brake
MPA Premium Muzzle Brake
Direct Thread Attachment, User index-able (5/8-24 TPI)
Trigger
Accuracy Guarantee
Rifle Case
Specs
Chassis Weight – 5.2 lbs
Rifle Weight – 12.5 lbs (no mag or optic, 24″ Sendero Barrel Profile)
Barrel Twist – 1:8 (other twist rates available)
Barrel Length – 24″ Standard
Barrel Muzzle Thread – 5/8-24 TPI
Barrel Profile – Sendero Profile (others available)
Monopod – Included
Barrier Stop – Compatible
Front Bridge – Removable (Included)
Coating – Cerakote
Length of Pull – 13.75-15″
Trigger – Trigger Tech
Trigger Pull – 1-3 lbs.
Magazine: AICS Type Magazine