A couple months ago I decided that I needed to find a dedicated AR multi-tool that had a good set of features and was available for under $40. After way too much time on Google, I found the Wheeler Compact AR tool and this thing is legit!
Okay, so it's $30, what do you get for the money? A lot actually. Specifically, 23 different tools in a package that measures just 3 ¾" x 5/8" and weighs in at 8.4oz.
Here's What this Little Tool is Packing;
#2 Phillips Screwdriver
5/64 Hex
7/64 Hex
1/8 Hex
Pivot/Takedown Pin Punch
T10 Torx
T15 Torx
T20 Torx
3/16 Flat Blade Screwdriver
A2 Front Sight Tool
½" Wrench
¾" Wrench
Castle Nut Wrench
Bolt Tail, Shoulder, & Carrier Scraper
Bolt Lug Scraper
Cam Pin Scraper
Primer Pin Scraper
Bolt Face Scraper
Cotter Pin Puller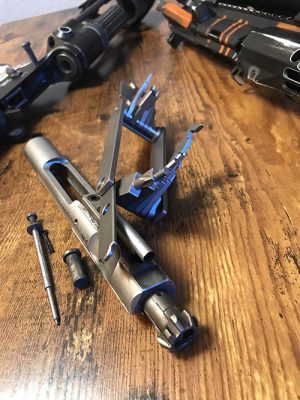 It's a pretty beastly package. Everything you need to clean and maintain your AR in a compact handheld multi-tool. There's not much else to say here, this thing has what you need and it just works! Get your hands on one, toss it in the range bag, and stop asking people for tools at the range!