We're ready to help you build a one of a kind firearm that is the perfect fit for your application, budget, and style. Our team is here to walk you through every step of the build process. We will get to know you and your application and make the right recommendations for parts based on your goals as well as explain the pros and cons of different setups and choices. Whether you are building a suppressed short barreled rifle with multiple caliber uppers or going for lightweight precision for your next 3-gun match, we've got the knowledge and experience to help set you up for success. Reach out to us for all custom AR build questions.
What goes into your AR Build?
Upper Parts
Barrel
Gas tube
Gas block
Hand guard
Charging handle
Bolt carrier group
Muzzle device
Upper receiver
Lower Parts
Lower parts kit
Trigger group
Grip
Buffer
Buffer tube
Buffer spring
Buttstock
Lower Receiver
Attachments
Sights
Optics
Grips
Lights
Lasers
Slings
Suppressors
Choosing the Right Barrel
Barrels and Bolt Carriers have the largest impact on the accuracy of your AR. You'll choose length, caliber, finish, material, gas system length, lining, and twist rate.
Picking a Gas system
Pistol, carbine, mid, rifle or piston driven? Your gas system is the core of your rifles operation. The pressure, cyclic rate, feeding, and ejection; almost every action of your AR is impacted by your gas system. Selecting the gas system components for your build and accessories is critical to the reliability and feel of your firearm.
Handguards
Whether you choose a free-floating or a drop-in handguard, it has to be designed for your gas system. Handguard choices are almost limitless but pairing the right handguard for function and aesthetics is the goal.
Bolt carrier groups & Charging handles
A quality bolt carrier group makes all the difference in accuracy and how 'smooth' your AR feels when firing. Choosing the right coating for your bolt carrier and charging handles based on your setup is just the icing on top.
Choosing a Lower parts kit
From complete Mil-Spec lower parts kits to picking out each part individually, we will help you weigh the pros and cons of parts like extended bolt catches, battery assist devices, oversized takedown pins, and more.
Trigger Selection
A smooth, crisp trigger will complement the quality of your AR, making it easier to shoot consistently and quickly. We will assist you in selecting the right trigger based on your application and preferences.
Grips & Stocks
Grip and stock options are as varied as the AR platform itself. We'll get you the correct parts for the look, feel, and function that you are after.
The buffer system
Round, flat, braided, captured? What kind of spring should you get and why? Carbine, H1, H2, H3? What about buffer weights? Tuning your buffer system to match your build will greatly reduce the felt recoil of your AR as well as improve feeding & ejection, cyclic rate, and bolt bounce.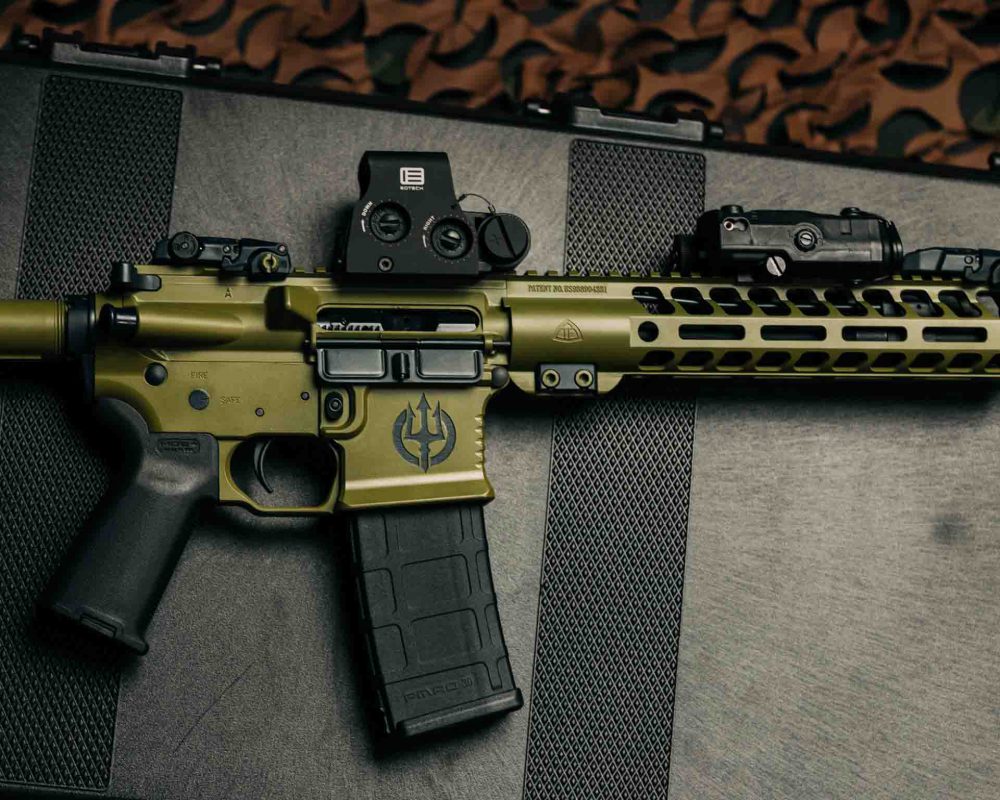 Laser it
What else can you do? You can laser it.
Stippling, custom artwork, color fills, and your imaginationcan make your firearm a work of art
Pricing
Ready to build your rifle for real?
Let's stop talking and start building